Tis the season to be jolly Fa-la-la-la-la, la-la-la-la! Oh no! it's not almost that time is it? We are sure you are starting to hear the bells chime and the seasons change, already. And, yes, you are right, it is time to bring the festivities again since Christmas is just around the corner, looking at you with eyes full of joy and its Santa with Pockets full of gifts! Every year you go through the same drill;  hang the decorations, house cleaned, meals planned, gifts picked and everything else ready and perfect. In your quest to achieve perfection (and excellence- of course), why not let us inspire you with these 9 Christmas Home Decor Ideas to get the creative juice flowing? Even better, just copy the ideas straight through! after all, why reinvent the wheel right? So come on, get excited,  its Christmas!
Scandinavian Dreams
Source: Nyde
We absolutely love Scandinavian Christmas design. But we can never pull it off at home as Christmas is in the middle of summer here in Australia! But we totally understand how you and the entire world cannot get enough of the whole Scandinavian Charm. If you are a fan like us, this is the ideal decor idea for you, especially when space for a big Christmas tree might be a problem. Also, it brings a light and modern twist to Christmas. Adding also to the minimalistic look, the twinkling lights and the overall demure of this Christmas Tree will have you and your family smitten instantly. All you need is some hanging space and your husband's strength to have the logs hanging from the ceiling, and et voila!  you're good to go.
Cosy Breakfasts
Source: Coco Kelly
Christmas morning is the best!  The sounds of children screaming in excitement and joy,  and an undying family spirit in the air. Imagine having amazing Christmas breakfast on a dining table this cozy! The Warmth of the Wooden benches and accessories like fur and indoor plants add so much charisma to your space. Not to forget, it is always a good idea to invest in some good lighting strategies. A rustic chandelier or pendant light works superbly for an occasion like this. You could also play along with battery operated candles and witness the magic.
Gaga Over Garlands
Source: Christmas 365
If you have a staircase then you always know how to add that tinge of glamour to it since the Garland always comes to your rescue. The lush greenery that the garland brings is unmatched and having it adorn your staircase with pines just adds to the drama. You could also infuse these with string lights for the night and embellish them with stockings and ribbons to make the most of the Christmas Vibe. You might want to play it cool with the colours and have these elements take centre stage.
Low-Key Wreaths
Source : Decor8
Wreaths don't just sit on your entrance doorway but can also be an uber cool option for you to decorate your walls with. This can be turned into a fun activity with the kids and could either be done as a collage of wreaths on the wall or just one statement piece. Either way, the results are exceptional and this makes for a really pretty piece to look at!
Tantalising Tableware
Source Amara
When you're playing host on Christmas, you would certainly want the whole house to spell out Christmas Shenanigans, and this shall include the Tableware! You could easily rev up things on this front with some brilliant tricks to add the colour of Christmas to your table along with the scrumptious food. Red Table Napkins and bits and pieces of snowflakes lying around are a safe bet. You could also play it up with your cutlery and add a very fun vibe to every meals
Lit Up Like A..!
Source:  My Scandinavian Home
How much, would these lights be the talk of the town once you're done with it?  You might have everything ready and set to go but one up a notch with the jazzing up would do you no harm. The dining table might be longing for something wacky but cool this Christmas and you may have the space to do just that. After all, it all in the spirit of Christmas right? Bringing in some greens to your lighting pendants seems like a cheap, interesting and great way to add a spark to your space. It is easy to do and maintain and would certainly fetch you lots of brownie points for creativity.
Boho Vibin'
Source Designing Vibes
To those who would like to incorporate a bit of chic, a bit of boho and some traditional Christmas element, you will like this light, colorful and dazzling Boho Christmas inspo. Play with as much colors as you like as you can never have too many! Pick and choose the pops of colors depending on your mood and the crowd you are entertaining. Be careful though, your guests may never want to leave!
The Fireplace
Source: My Domaine
As Majestic as it sounds, Christmas without snuggles and a fireplace seems incomplete. This is exactly why you need to bedazzle the fireplace with all the Christmas charm you have at your disposal. Garlands, bells, ornaments, stockings, candy canes – they all deserve a spot here!
Summer Noel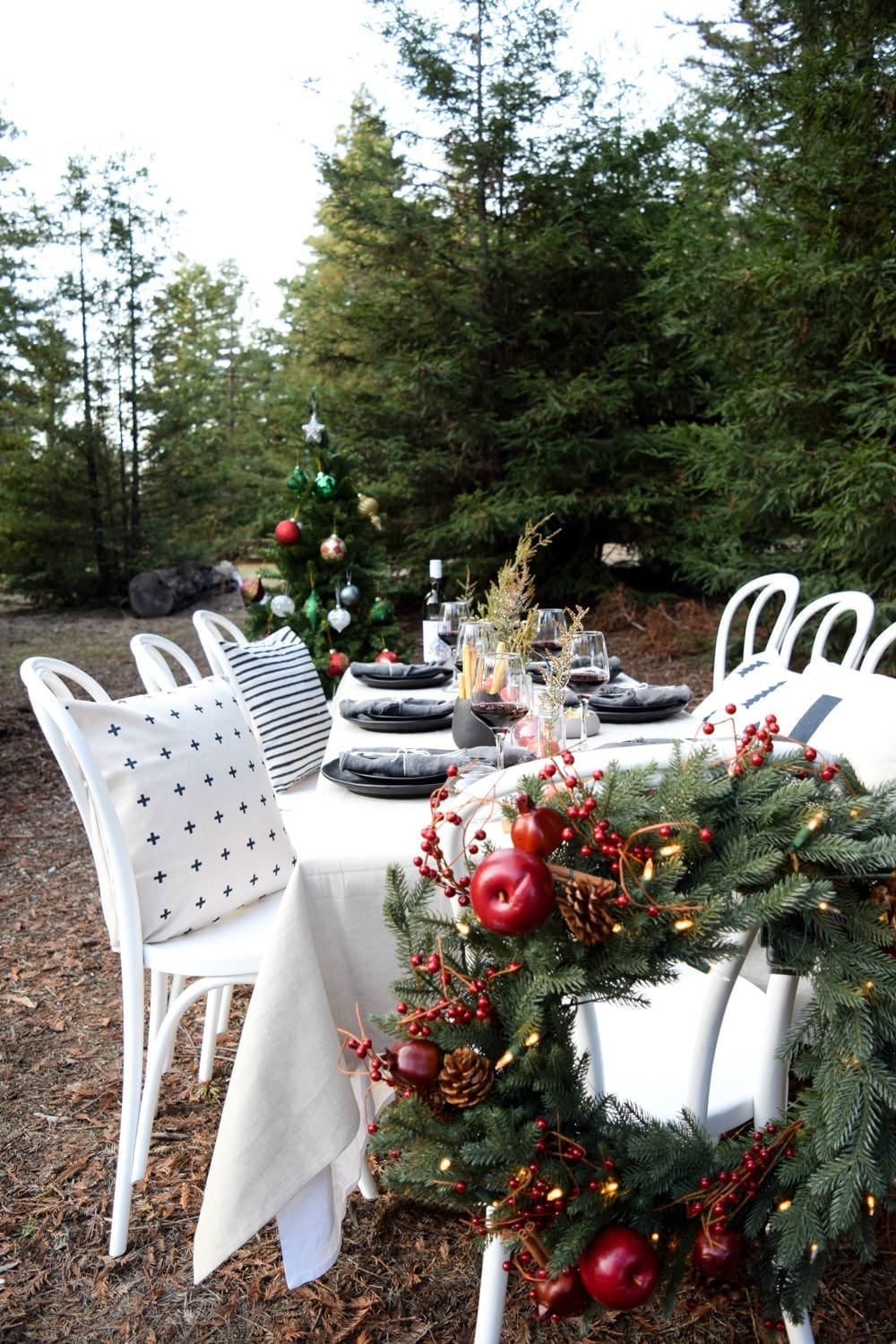 Source Style Curator
Last but not least, being in Australia, lots of Christmas activities tend to be done outdoors, why not? the weather is perfect for it! Just take your indoor favourite ideas outdoor! Be experimental with colors, go with the deep hues you would not normally have at home. It will definitely comes to live under natural lighting.
These small ideas will surely make your home unique this year. Hope you are all ready for the Christmas Cheer and we hope this cheer brings lots of love and luck to you all.
More Christmas Ideas, Tips and Inspo :