Governed by artistic accents, fresh colours, vernacular look and feel and just a usual sense of relaxed spaces, Bohemian Decor is one of the easiest and brightest ways to add charm to your built environment. Characterised by unusual elements and a rich touch of culture. Bohemian Decor will surely price up all these dull nooks in your space and spice things up! Your search for inspiration ends here because we've curated a list of some of the most interesting things that you can do to your space and make them scream 'Boho!'
Source : Bohochic
With colour accentuating your walls and adding life to it, this Boho Decor, with cane in all its glory, is certainly a very eccentric way to make your living room shine brightly. Colourful cushions against the earthiness of cane really come alive and is a game changer.
Source Indecora
Bohemian Decor and warmth go hand in hand and this setting really elevates that mood. Plush carpets with huge floor cushions to sit on is the Bohemian dream. Adorned with mirror work lanterns and lush greens, this is an easy fix for your outdoor spaces!
Source Nomadbubbles
Bohemian Decor does not necessarily mean colour but stands for tastefully curated spaces with relevance. This minimal take on the Boho theme is just right for you in case you're looking for a muted aura for your home. The craftsmanship is what brings this boho piece to life, creating an unforgettable experience.
Source Furniture Choice
Creating a Moroccan cultural potpourri, the mirror work infused with some blues will surely raise the bar for you. Cutwork partitions, delicate arches and the richness of indigo hues are what amalgamates beautifully, setting your space on fire!
Source Messynessychic
Turning out to be a haven for stunning tapestry and a selection of Kilim furniture, the rustic feel of the bohemian place feels like paradise. Every corner is decorated with Bohemian elements and also subtly maintains a balance amidst it all. Take inspiration from this and turn your home into a bohemian safe haven too.
Source Love, Sarah Schneider
Bedrooms are spaces that you use to unwind and relax and would not want too much going on there. In that case, a minimal platter of the Bohemian charm needs to be served fresh with blue accents to really maintain the vibe of the space. Perfectly balanced with wooden features, this palette is absolutely sought after
Source Alida And Miller
One of the easiest ways to make your spaces seem boho enough is by adding an adorable swing in the middle of it. By not doing much, you seem to have achieved a lot. With the swing in place, opt for native American prints and colour to add texture to space and enhance the volume you've created.
Source Naxian on the Beach
The mighty bamboo is also one of the most glorious elements of the Boho clan and one can never go wrong with it. Its colour is what works the magic and pairs well with all sorts of bright and low-key tones. Use bamboo efficiently and watch your bohemian dream translate to reality. Make sure you get the colour palette right for this one!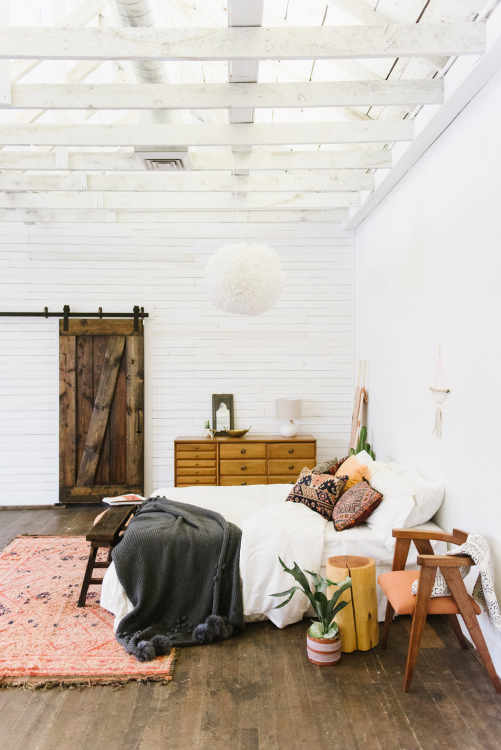 Source Apartment Therapy
Breezy, airy and absolutely delightful, this bedroom will give you some major goals to work on right away. It has the serenity of white and also that Bohemian allure to sweep you off of your feet. There are fabric and texture that works miraculously well together and that rug really holds everything in place. We hope you're taking notes here!
Source Lonny
We believe that books eternally hold all cultures together and what better way to add that Bohemian enticement to your home than books! Telling you colourful stories, books and decor might not be the easiest match but once mastered can really add a personalised touch to your spaces. Try making bold statements here and you'd see the transformation yourself.
Source Adela Parvu
Why should your kitchen be left to dullness when everything else is packed with vivid colours? Try bringing in some Portuguese charm to your kitchen with small and colourful tiles to throw in a pop of every colour possible. It is fun and functional and an instant people pleaser!
We're sure that by now your brains would be exploding with ideas for that next home makeover. Try these ideas and thank us later.
Related Articles :